Wow
My dog has been going through some health issues for the past 2 - 3 years. We have been to many medical specialists and therapists but was never clear on what the cause of his autoimmune attack. With Pam's health analysis, everything all of sudden made sense. I dug through my dog's medical records of the relevant points Pam made and showed our neurologist, who agreed that it was most likely what started his condition. She also cleared him for past emotional trauma, and within a day, our family and his physical therapists had all noticed the change. We all still talk about how effective Pam's session was.
She is truly a gifted talent practitioner. We are really lucky to have found her.
Pam and Her Work Should Be a Staple in Every Vet Office
In the early summer of 2021, my 11-year-old Ragdoll cat, Charlie, was diagnosed with Feline Hyperesthesia Syndrome (FHS) – and then started to have a head tremor on his 12th birthday – July 2021. The days and nights were hell. Pure hell. I honestly thought that death would be the only way to stop it.
Traditional vets are taught to treat problems, not causes. So if you're here because you have seen multiple vets and still don't have answers - you're in the right place because Pam will find the cause and treat the cause, so you no longer have the problem.
Pam's knowledge, expertise, intuitive abilities and more have changed my life with my cats. She is an angel here on Earth, and I wish every pet parent had her knowledge, so every kitty, pup, etc. could flourish. If you're trying to decide whether or not to pull the trigger, here's a quick glimpse of my journey with Pam. As I write this, its the end of November 2022, I bought our analyses in May 2022.
My Charlie is 95% back to himself. And if he has a flare-up, it is quickly addressed. We are 7 months into his detox.
He is now 13, and this last summer was like heaven compared to the year before.
I read almost every post on an FHS Facebook group last year, trying to figure out where to turn next. I read about people pilling their cats multiple times a day, and I knew I couldn't do that for the rest of his life. I started picking up some themes from the posts – kibble-fed cats, inflammation concerns, leaky gut, leaky gut, leaky gut.
After encouragement from a good friend, I finally bought an "Optimal Cat Health Analysis" from Pam at Purrrfectly Holistic – this is all you really need to do to start your cat's journey back to being a normal cat as Pam will guide you…but here are other things I did in the process:
1. Gave him all the supplements, etc. that Pam recommended specifically for him – this included herbs, homeopathic remedies, etc.
2. Removed dry food from his diet
3. Removed wet/canned food from his diet
4. Got him on a 100% raw diet - Pam helped this happen in 2 weeks - which is insanely fast for a 13-year old cat
5. Stopped using laundry detergent with fragrance in it – and washed EVERYTHING in the new free and clear detergent to remove those smells from the house
6. Stopped using scented soaps – and only use ones approved by EWG – for my hands, so that when I touch him, he is not in contact with fragrance. If you use ANY fragrances, try to remove them to see if that makes a difference.
7. Stopped giving him topical (neuro-toxin) flea medications
8. Stopped giving him vaccines
9. Regular visits to the chiropractor – which have now gone from every 3 weeks to every 5 weeks – he's only been on raw for 3 months. I suspect the longer he is on raw, we will see the chiropractor less and less.
My other cat, Trigg, has benefited too (I did an analysis with Pam for him too) – and little did I know, he needed a major detox too from the years I gave them vaccines, flea meds, dry food, crappy wet food, and more. Trigg had candida overgrowth and pancreatitis problems.
The detox journey was NOT easy – it's a lot of hard work. Some days were better than others. My cats vomited a lot - but that's to be expected when your body is that toxic. I wouldn't say they suffered from vomiting, but more like us having the flu. I would do it all over again, to have the peace and well-being we have now though.
My Charlie had lost muscle mass, and his body felt like an emaciated diseased cat – now he has regained muscle mass, his coat smooth and silky, and his eyes are bright and clear – I could have never dreamed of this result. He's happy.
My Trigg has lost the inflammation in his body that made him look like a Butterball turkey. He is back to running around the house like a crazy man and his eyes are also bright and clear.
I hope Pam is around for a very long time, I have a lot to learn from her - but now feel so much more confident about the decisions I am making for my cats and hopefully the ones I have in the future.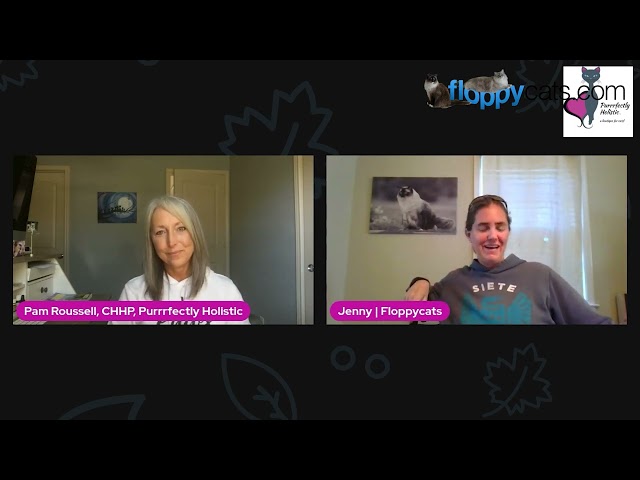 I am truly humbled and grateful for your review. Thank you!! Don't forget to give yourself credit for persevering--the journey was challenging for you through the ups and downs, but you didn't give up! Charlie and Trigg are so fortunate to have you as a mom who is so committed to their health and wellbeing!
Don't doubt a little 'woo woo'
My cat was displaying signs of potential FHS -- a syndrome I never even knew existed in life. Through countless nights of researching, crying and being frustrated on how to help my furbaby, I came upon a supportive cat community and some people who have used Pam's muscle testing services. While her work sounds like 'woo woo' to skeptics, I was at a point where I wanted to try some different options and not have to put my cat through rigorous testing, vet visits or medications. Pam's calming presence and abilities are like no one else, and it made me feel very comfortable and go along for the ride on the woo woo train. And I can say I'm a believer! We discovered some of the root cause issues, Pam comes up with a plan unique to your cat and comfort level and you begin to treat with her recommendations.
I've learned so much from Pam during this process and my own cat! Energy is truly a powerful thing for healing. I'm thankful beyond words that a service like this exists.
Thank you so much for your kind words and confidence in me to help you with sweet Stella! Our pets bring us opportunities not only to learn how to help them but we end up learning so much more in the process. She is making amazing process thanks to your perseverance and consistency!
Excellent support!
I was deeply impressed with Pam's level of professionalism, care and commitment and ability to capture energetic communications between owner and animal. Pam's remarkable insights have been instrumental in creating harmonic conditions. I felt instant relief in my first session - to include a shift in my own energy. Very thankful she was recommended!!!
A life saver for my little rescue man.
I know that for many people this is 'different'…Pam's gifts are continuing to help my little rescue with so many challenges. Dowsing and energy work has been around for many thousands of years, embrace her help.