Purrrfectly Holistic
Regular price
Sale price
$64.00 USD
Unit price
per
Sale
Sold out
As a pet parent how many times have you wanted to know what our furry friends are thinking or feeling?  I can tell you that animal communication is a very real thing, and everyone has this ability, they just don't know it.  Essentially it is using a telepathic ability that we all have; we just have to be taught how to tap in to it.  There are many benefits to animal communication:  deepening your relationship with your animal, understanding or resolving behavior or health issues, learning what makes your animal happy, having a connection with them while you are away, and connecting after they have passed on or are about to pass.  Whatever your reason may be, I can assure you it can be life-changing. These sessions are not intended to intuitively check treatments or products for specific health issues or conditions, but information gained from a session can be highly valuable for your vet.
We highly recommend you download the FAQ page for Animal Communication sessions if you are new to this kind of service and to get the most out of your session.
NINA
My spiritual journey led to Kim Shotola's Lightfoot Way Animal Communication class in 2008 after I was gifted an animal communication session.  The experience was truly life changing in my case.  Curiosity prompted me to take the class because I wanted to know how it worked.  During the class I knew I was hearing animals speak simply due to the distinct nature of the conversations I heard. There was no way I would have been able to make up all the information I received in my imagination.  Once I completed the class I began to channel the family dog, Haaris, whose name means Guardian in Arabic.  It felt like I was channeling God through Haaris, and this continued for a period of time.
I have always liked animals but to suddenly hear them express their thoughts and opinions completely transformed my reality.  As a result, I was no longer the superior party in any animal relationship.  Dogs, cats, and horses were eager to communicate once they knew I was listening.  I love the way pets' personalities come through in the conversations.   Some are hilarious!  Other pets are relieved to be heard because they have wanted to talk about a problem for a long time.  Spirit is always there in the exchange.
That paradigm shift in reality led me to study other healing modalities including angelic healing, energy work and the Akashic Records where all information is stored including past lives that animals have shared with us.  I consider myself to be a life-long Seeker!
I was raised in Austin, TX,  and attended college at The University of Texas and in Spain with NYU.  After that I taught school, raised 3 kids while working from home in an export business, and now have 3 grandchildren.  I have had horses whenever I could afford one along with some memorable cats and dogs, too. Currently I hope to share the remainder of my life with my husband in the Austin Hill Country. Since we are seniors it's good to keep things in perspective!   I am a caretaker to two horses, some cows, and a geriatric turkey.  My daughter Aisha's two cats, Nick and Jeff, enjoy checking me out and staying around if they are so inclined and not too busy with other activities.

Animal Communication Sessions
All Nina's sessions are written transcripts.  Once the session is purchased Nina will contact you by email requesting details including a photo, name and age of the pet, and questions.  Most sessions can be completed within 72 hours.  Urgent/emergency sessions can be completed within 24-48 hours. 
Session options:
$64 for 1 question or a quick check in
$99 for 3 questions
$140 for 5-6 questions
Urgent/emergency sessions are available for an additional $30.
Testimonials
I had the good fortune of meeting Nina in 2007 through horses. Nina has been a very important part in helping me keep my horses happy and healthy...both in the form of Equine Bodywork and Communication. She is both astute and intuitive in her communication. Often helping find issue that my veterinarians and I haven't quite been able to figure out. 
I have some great and funny stories I could tell from her communications with my horses. One told her, years ago, that he was happy with my care and riding but to " get rid of the dang cat!" The cat was constantly using his stall as a giant litter box!
More recently, one of my barn kitties disappeared. She had shown up about 8 years ago and had made herself at home. She used to follow me around at night when I was feeding and haying the horses outside. She'd meow like she was talking to me the whole time. Then one morning, right before New Years' eve, my barn helper mentioned that she hadn't seen her in awhile. Neither had I. She usually hung either in the barn or just outside on the grass. After a day or two, I got worried and asked Nina to check in with her. Sadly, she told me that the kitty wandered off and passed peacefully. She also told me that the kitty loved the being a part of my barn family and helping me . 
 I really appreciated Nina's help in putting my mind at easy about my Noche kitty. 
~ Suzanne W. 
Nina is amazing!  She has been my distance animal communicator and has done energy work on my dogs for several years.   Through her knowledge, she had helped them overcome many health problems, behavior problems and food issues.  My dogs are responsive to her and I notice a calmness in them and a significant improvement after a session.  Nina is very down to earth and offers helpful tips that allow my animals to move ahead and heal.  She has helped me understand my dogs which has deepened my human-animal relationship with them.  Nina is truly gifted and a blessing to all.  Many thanks!

~ Liz, Stonie and Franny
Share
View full details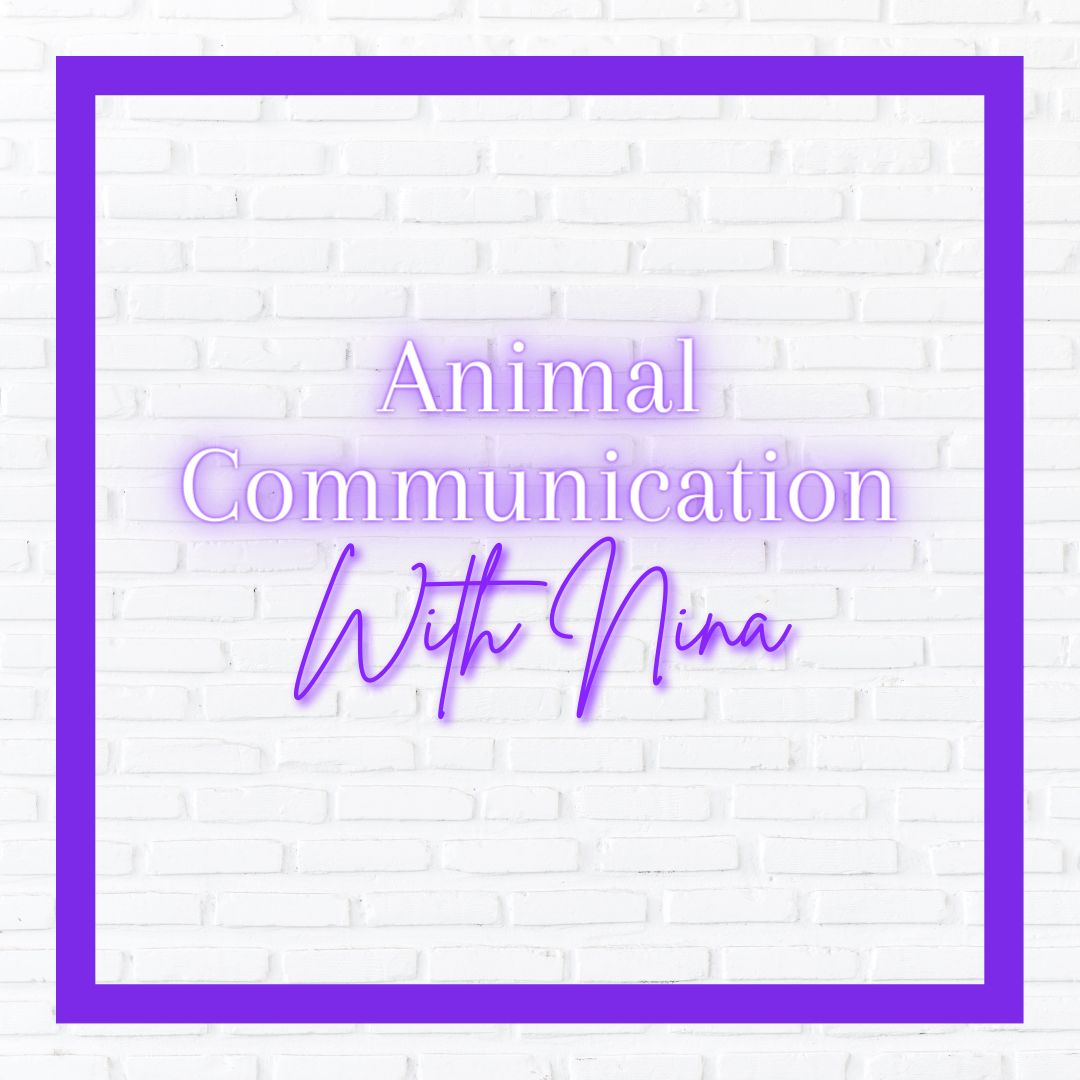 Loved learning about Barry
Nina did a wonderful job with the Akashic reading for our dog Barry. We got a wonderful glimpse of who he is at a soul level. Can't believe he has been with our family for 700 lifetimes. Appreciate this deeper connection with Barry.
Image with text
Pair text with an image to focus on your chosen product, collection, or blog post. Add details on availability, style, or even provide a review.
Button label